This weekend I was sharing a story with a nephew, of an extraordinary moment in my life a number of years ago when I was a Professor in the Theatre School at the University of Southern California.

I had just finished teaching my first Vocal Awareness class and was standing stage right in the Bing Auditorium on campus speaking with a student when someone tapped me on my shoulder. I turned around and saw a young woman with hearing aids in both ears.
She said, "I'm  deaf. You have to face me when you lecture because I am reading your lips."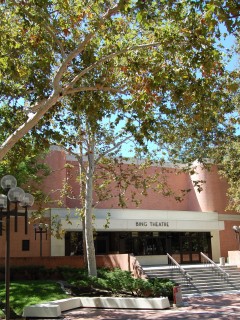 I will set the scene for you.
I had always believed I could teach a deaf person to sing although I had never tried. Next class we began her training. I had her place one hand on my larynx and the other hand on the top of a beat up old upright piano. I was vocalizing and singing loudly with her while forcefully playing the piano as she could not hear a tape recorder, but could feel vibration.
Her first semester final was performed in this manner while doing basic scales with me and mechanically singing "Do, Re, Mi" from the "Sound of Music." Second semester final – 20 feet out on the Bing Auditorium stage repeating the same scales and song plus one additional song, "My Favorite Things" also from the "Sound of Music."

In her junior year, she sang the country song, "Blue Bayou" at a performance level. You never would have been able to tell that this amazing young woman could not hear at all.

Vocal Awareness teaches Empowerment Through Voice. In that context, I teach that everything in life revolves around two things:
to choose to do something or choose not to.
All I care about is does that choice empower you or disempower you. Since everything costs something, what price do you want to pay?

This exemplary student fully dedicated herself to being and doing her best, the cost–irrerelevant.  This in turn, enabled her to excel and truly fulfill her passion.

Paraphrasing what the great German writer/philosopher, Johann Wolfgang von Goethe said, "Whatever  you can do or dream you can, begin it. Boldness has genius, power and magic in it. Begin it now."